So if you're on the internet a lot, then chances are you've seen gifs like these: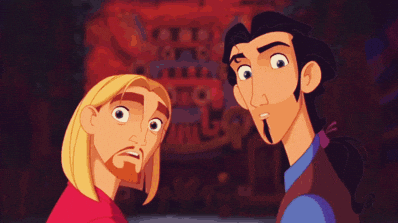 For ages, I didn't know where they were from, but I was intrigued. Turns out, they're from a film called 'The Road to El Dorado' and it's on Netflix.
It's the story of two partners in crime who get their hands on a map supposed showing the way to a city of gold. Now that starts like the start of an adventure, and it really is, but spoilers! It's a great film and I loved the friendship between the two main characters.
Visually, it's stunning 2D animation, although I wish they hadn't tried to use a more 3D style too for things like the water. For the time that it was made though, it's pretty good. The music is amazing too – a combination of Tim Rice and Elton John- what more could you want.
In my opinion, a very under-appreciated film.
3.5/ 5